The Scenario shows an interesting attack of the Monkeypox on May 15, 2022, and this report was written in October 2021.
The discussion was organized into three sequential "moves" corresponding with scenario developments, followed by a roundtable discussion of broader biosecurity and pandemic preparedness issues. The step-by-step approach to revealing scenario developments reflected the limitations of information available to real-world decision-makers, as well as the resulting uncertainty associated with a pandemic of unknown origin (see Figure 1).
The combined global pandemic leads to more than three billion cumulative cases and more than 270 million deaths by the end of December 2023. At the peak of the pandemic, nearly 500 million individuals are infected at the same time, and there are 161 million people simultaneously in need of hospitalization.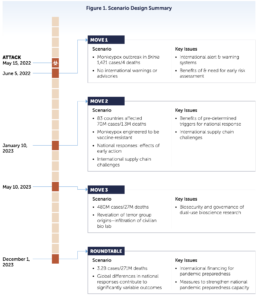 Download and read the entire 34-page report at https://liberalwatch.com/docs/NTI-Paper-BIO-TTX-Final.pdf