Texas Democrat legislators are in their fourth day of a stand-off with their Republican counterparts to prevent a vote on voter integrity measures that Democrats are calling voter suppression efforts, waiting out the 30-day special session.
The special session was called by Governor Greg Abbott to ensure a vote on issues including voter integrity, border security, censorship, and the spread of critical race theory in schools.
On July 12, dozens of House Democrats walked out of the first day of the legislative special session and booked two charter flights to Washington, D.C., which prevented the quorum required to pass the voting legislation. Instead of voting on their state's voting bills, they are in D.C. pushing for the passage of the U.S. Senate to pass S. 1, the sweeping legislation that would federalize elections.
In order for the more than 50 Texas lawmakers to make the trip to Washington, Texas Democrats used funds raised by former Texas congressman Beto O'Rourke's election-advocacy group. Powered By People raised over half a million dollars as of Wednesday morning. Other funds are being raised by the Texas House Democratic Caucus members themselves.
The Democrats have vowed to stay in Washington for the duration of the special session, and possibly longer. According to their estimates, it is costing 100,000 a day to be there.
"The message is very clear: America, we need to wake up, we need to preserve our democracy, we need a Federal Voting Rights solution, and we need now," Rep. Martinez Fischer (D) told CNN on July 10 before Democrats walked out from Texas special session. "This is a now or never moment. We're holding the line in Texas and we're going to fight with all our might. But even if we were to fix this problem in Texas, it doesn't solve the problem for the rest of the nation."
As the Democrats boarded the private planes to fly to Washington, Fischer made a plea for donations via a video to help fund the D.C. trip to "fight for our democracy."
"I can't do this alone, I need your help, I don't know how long I am going to be gone," he said.
Meanwhile, Texas Republicans, who hold the majority, are prevented from voting on any legislation, but did vote in favor Tuesday, 63 out of 67, to arrest the Democrats when they return to Texas. When they return Texas law will allow the state police to take them to the legislative chamber where they will be forced to carry out their duties and vote on the legislative agenda set by the Republicans.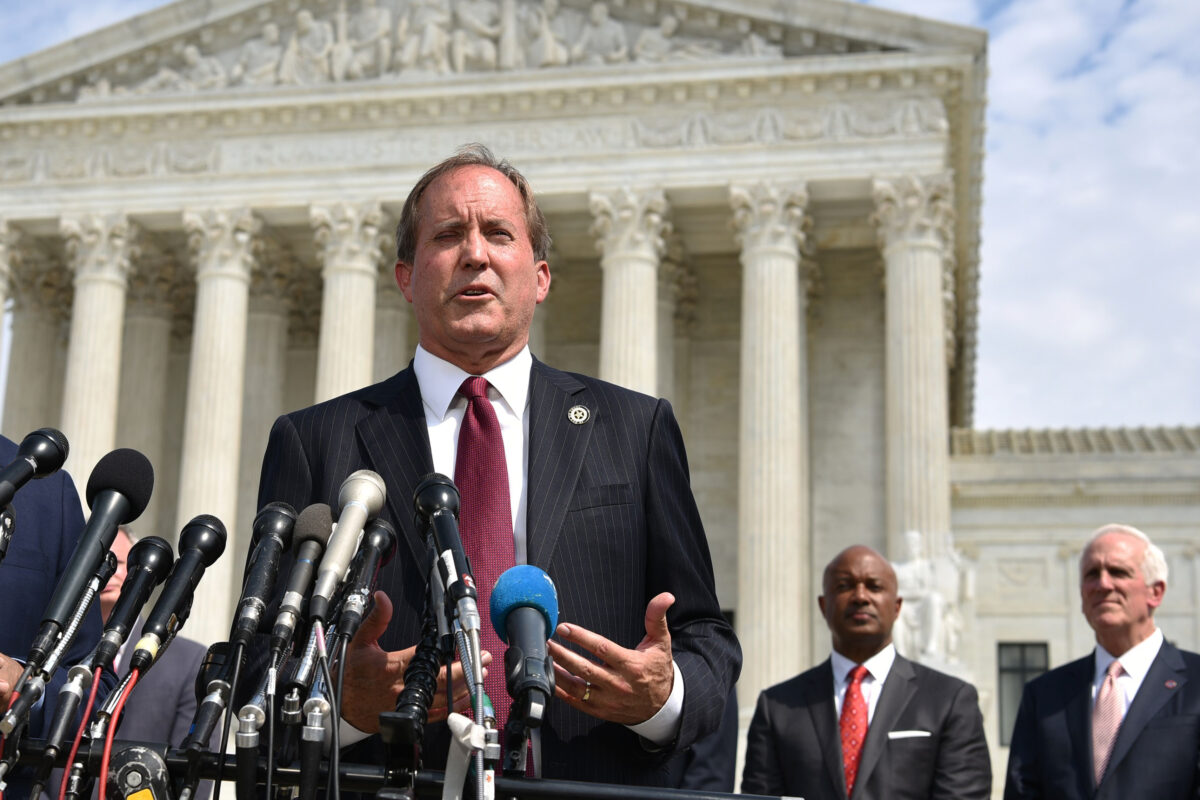 "Well, the way it works, when they show up, yes, they can be arrested by our state police and brought—not to jail—they'll be brought to the Capitol where they'll be forced to stay on the floor of the House and vote when bills come up," said Texas's Attorney General Ken Paxton during a Thursday interview with Fox News. "They won't be allowed to leave once they're back in the state."
Paxton said the Democrats will have to deal with the legislation sooner or later.
"They can stay away for a long time, but eventually they'll either lose their position or they'll have to vote on this, so they're just delaying the inevitable," Paxton added.
Even if Democrats stay away for the full 30-day session, Gov. Abbott said he can call more special sessions to get the work done.
"First of all, I'll tell you what the House of Representatives can do. What the speaker can do is issue a call to have these members arrested. In addition to that, however, I can and I will continue to call special session after special session after special session all the way up until election next year," Abbott told a local Texas's KVUE on July 12.
The Democrats say they are willing to risk the consequences of breaking quorum because they plan to get the U.S. Congress to pass the national voting rights legislation.
"We are now taking the fight to our Nation's Capitol. We are living on borrowed time in Texas. We need Congress to act now to pass the For the People Act and the John Lewis Voting Rights Act to protect Texans—and all Americans—from the Trump Republicans' nationwide war on democracy," said House Democrats in a July 12 press statement.
The Democrat Caucus did not immediately respond to requests for comment.