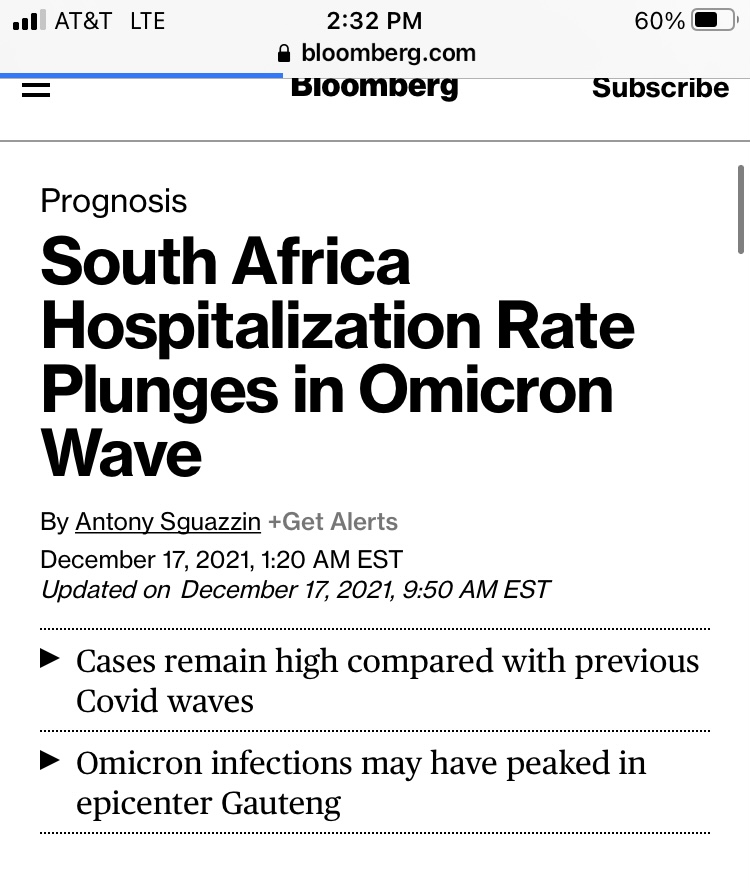 Fewer than 1 in 50 people with confirmed Omicron cases are being hospitalized in South Africa – which suggests that the actual hospitalization to infection rate is far lower still because so many people with Omicron have such mild cases they won't bother to be tested.
And the wave of new cases seems to have peaked.
A glimmer of hope? 11 TIMES fewer Covid patients in Omicron-ravaged South Africa are now being admitted to hospital than during summer Delta wave
Health minister Joe Phaahla said 1.7% of cases were being hospitalized compared to 19% when Delta emerged
Phaahla added that cases appeared to be peaking in Gauteng about three weeks after the strain took off
High Covid immunity levels from vaccination and past infection are thought to be behind low hospitalizations
But doctors on the frontlines have also suggested that the super-mutant strain may be milder than Delta
In America, the Omicron variant could already be making up one-in-every-five Covid cases in major cities
Experts warn of a 'viral blizzard' that could infect millions of Americans in the coming weeks
Eleven times fewer patients diagnosed with Covid in Omicron-stricken South Africa are being admitted to hospital now than in the summer, experts claimed today.
The country's health minister Joe Phaahla revealed 1.7 percent of Covid cases went on to be hospitalized during the second week of the current wave. For comparison, he said the equivalent figure was 19 percent in the second week of South Africa's Delta crisis.
Phaahla also told a press conference there were early indications that 'the peak has been reached' in Gauteng, which was the first to feel the full force of the variant.
The province's daily infections have started to trend downwards, about three weeks after the ultra-infectious variant took hold.
Higher immunity levels due to vaccination and previous infection now than when Delta took off are thought to be behind the lower hospitalization rate.
But Phaahla suggested Omicron may have evolved to be milder, bolstering claims made by doctors treating patients on the frontline.
Public health official Wassila Jassat, who also attended the conference, said South Africa had fewer patients needing oxygen now than when Delta emerged. She added that patients were hospitalized for a shorter period.
It is the latest glimmer of hope for the US that Omicron may be milder than first feared.
haahla did not present an analysis to back up his suggestion that a lower proportion of patients were being hospitalized now than when Delta took off.
But two-thirds more swabs were being carried out every day at this point during the Omicron wave than for Delta which may have skewed the analysis.
Officials figures show some 54,800 tests were carried out every day in the second week of the current wave, compared to 32,600 in the second week of the Delta wave.
Omicron was first detected in South Africa on November 25, and Delta was first detected on May 8.
It is over. Well and truly. And so is the last shred of any credibility for public health authorities, governments, and the media.