New Mexico Senator Leaves Democrat Party, Cites Governor's 'Unconstitutional Acts'
A state senator in New Mexico has left the Democrat Party, upset over actions by Gov. Michelle Lujan Grisham.
State Sen. Jacob Candelaria made the announcement Monday, as a special legislative session started.
He said he feels the U.S. political system is flawed because it has brought about just two parties that demand loyalty and leave "no room to debate no room for discussion, and more importantly no adherence to the rule of law."
He later took a shot at Grisham, a Democrat, telling colleagues, "I don't think anyone can look at the events of Jan. 6 or many of the unconstitutional acts of this governor and not conclude that this partisan virus is starting to affect who we are as a country."
Unlike many lawmakers that leave their party, Candelaria is not switching his affiliation to the other major party. He is now the second independent in the New Mexico legislature; state Rep. Phelps Anderson left the Republican Party earlier this year over his pro-choice views.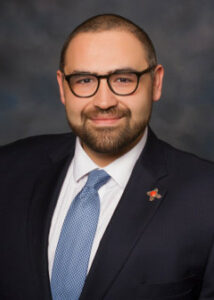 Candelaria has for months expressed opposition to Grisham's administration appropriating more than $600 million in COVID-19 relief funding that lawmakers say should have been doled out by them.
New Mexico's Supreme Court agreed last month.
Justices barred the governor, state treasurer, and all other state officials from transferring or committing the funds that had been appropriated without legislative approval.
"The court grants standing to the petitioners on the basis of great public importance," Chief Justice Michael E. Vigil said from the bench.
Candelaria and state Sen. Gregory Baca, a Republican who joined in a lawsuit against the governor, said the ruling "preserved the appropriating authority of the legislature and affirmed the separation and balance of powers enshrined in our Constitution."
"The governor's attempts to assume unilateral control of our state by bucking the authority of her office and the state constitution are an egregious power grab, and we are thankful that the high court has ruled in favor of the people," they added.
The pair alerted the court last week that the state apparently defied the ruling by spending some of the funds.
Grisham's press secretary told news outlets the transfer was scheduled prior to the ruling.
Grisham's office did not respond to a request for comment on Candelaria leaving the Democrat party.
Will Reinert, the spokesman for the Republican Governors Association, said Candelaria "saw the same thing New Mexicans are beginning to recognize—that Michelle Lujan Grisham always thinks she is above the law."
The senator's "wise decision is just the beginning of what is going to be a long campaign season for Governor Lujan Grisham as voters begin to examine her failed record," he added.